This module de-stacks individual trays from a stack of trays. You can place stacks of approximately 50 trays on the buffer belt supplying the de-stacker. If a tray has different dimensions, the de-stacker adapts to the new dimensions fully automatically. The de-stacker provides a constant, timely supply of trays, for example, to the Smart Placing robot.
Why will this destacking machine make you happy?
The Smart Destacking system saves you from having to de-stack individual trays manually. You can also save time by filling the buffer with a large supply of trays so you don't have to replenish the trays so often. What's more, the module adapts automatically to the size of the tray. The system fits in seamlessly with the other modules in the SmartStaff automatic packing line.
Example of usage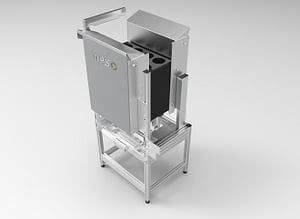 Below is an example of the capacity of this de-stacking system, based on an actual customer case. All our robots can of course be customized to suit your situation.
• Capacity: at least 250 trays per hour
• Tray width: 285-385 mm
• Tray length: 350-610 mm
• Maximum stack height: 600 mm
• Maximum stack weight: 20 kg
Free no-obligation business case
To find out how SmartStaff can benefit you, request a free, no-obligation business case today. Call us on +31 (0)174 671371 or e-mail us at sales@wps.eu.