An intelligent robot arm picks up a complete row of plants from a container, adjusts the size of the grabbers and places the plants in the plant carriers of the WPS system. Each gripper is equipped with a sensor that detects the presence of the plant. The system is capable of picking up plants without error even if they do not fit neatly in a rowr. The system is also equipped with 'fallen plant detection'.
Plants then can be scanned by a camera. If the plant does not meet the requirements, it will be returned to the same robot, which will then place it neatly in a row on the container.
Why is this module going to make you happy?
This intelligent robot is your best employee. The big advantage of this robotic arm is that it can do two tasks, for example placing plants in the carrier and removing plants from a carrier and putting them on tables in a subsequent movement. He does so with great reliability and accuracy, even though the plants are not completely in place. Something that other robots can not do.
Applicability Smart Picking
Below is a general indication of the capacities of this robot arm. Of course we can also be of service in the form of customized work if these values deviate in your situation.

Capacity: up to 3,000 plants per hour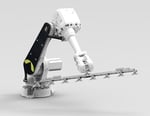 Pot size: 7 - 19 cm
Plant weight: maximum 350 grams
Pots: 6 - 10 pieces
Container width: maximum 2,000 mm
Distance: approx. 200 +/- 50 mm center-to-center
Free business case
Do you want to know what benefits SmartStaff offers you? Then request a free and no-obligation business case. Call Martin van Tol today (+316 45 10 86 08) or send an email to sales@wps.eu.