Digital Phenotyping is all about controlling one group of parameters to objectively quantify the variation in other parameters.
The WPS Water and Weighing Unit allows the user to very accurately irrigate water and nutrients to the plants throughout growth and/or measurement cycles according to the pre-set amounts. This allows the user to very accurately define and apply strict water and nutrient regimes within the same running experiment and thus have the potential to objectively measure the effects of different drought stress, nutrient deficiency, water regimes to the plant samples.
Water application is gentle, without spillage or splashing of soil, and is adjustable for the different pot sizes. Schemes for watering to exact volume, relative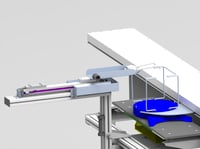 volume or predefined weight can be scheduled for single plants or groups of plants.
Key features
Plug and play, can be coupled with WPS Automated Plant Phenotyping Systems and WPS Plant Imaging Modules
The unit has retractable multiple spraying heads to eliminate plant damage in the process and to distribute the water evenly within the pot
Watering amounts based on weight and volume > 5 ml can be handled accurately with unprecedented throughputs
Target weight irrigation or absolute water amounts (ml)