Every phenotyping inquiry is different and as a result the ideal system design will also vary.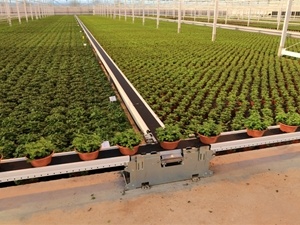 For situations where some of the below requirements apply:
Lower temporal resolution is required
High spatial resolution is required
Large population sizes
Budget is limited
Plants should grow in pots on cultivation floors to reproduce natural growing conditions
Plants should grow outdoors but ideally be measured automatically in a controlled environment; a conveyor based semi-automated solution could prove to be a better solution.
Conveyors of the system
The WPS SmartFlo system consists out of a network of conveyors throughout different greenhouse bays and/ or greenhouse compartments, in combination with plants growing on cultivation floors or benching. All these conveyors connect to a central imaging area where all the sensors are located.
Accordingly, the costs for the conveyor system are extremely reduced when compared to fully automated plant phenotyping systems ; but throughput and imaging capabilities are not compromised! Furthermore, SmartFlo still allows for individual identification of all plants and performs all imaginable automated measurements in order to generate accurate and validated data for all plants.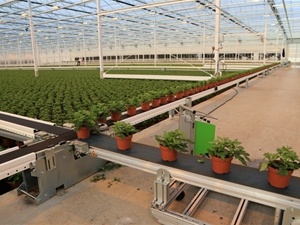 Modular design
The SmartFlo product family is a modular group of products designed to integrate with each other seamlessly- highly suitable for step-by-step expansion and upgrades over time. Researchers can embark with a simple semi-automated system and expand over time, step-wise or immediately, to a large scale fully automated system, retaining the integrated modules of the SmartFlo system.
Examples of modules are:
Conveyors in different widths
Corner guides
Remote controls
Wireless communication stations for creating routes and changing belt speeds
Robots for automatically placing plants on cultivation floor
Plant count devices
Movable cross over conveyors.
Another benefit of the high degree of connectivity is that all modules can be installed and maintained easily by the user with non or very limited WPS supervision.
Ease of use
Since the conveyor system should work for you, instead of the other way around, we take great pride in the highly integrated design between modular hardware, RFID control system and software. This makes the system easy to operate and very robust and reliable in everyday use.