Automated benching systems are an underestimated alternative to conveyor based phenotyping systems. Specifically when large numbers of plants are involved and screening frequency is not extremely high.
The WPS benching system can be implemented with automation ranging from manual and up to fully automatic. Benching systems are very modular and can be implemented and thence upgraded over time in order to reduce initial investment.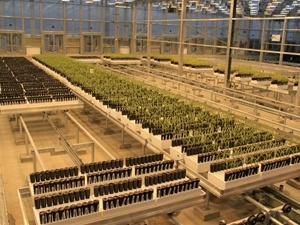 Some facts and figures:
WPS benches can be made in a wide range of dimensions and depth
WPS benches can be equipped for growing plants in pots, trays, crates etc
WPS benches can be combined with WPS conveyors to get to enable a fully automated digital phenotyping setup
WPS also has the robotics to manipulate plants on- and from the benches
Benches for mimicking plant-to-plant interactions and Field-Like Phenotyping
Benches can be used to grow populations of plants growing in the same soil and/ or close to each other to serve as a proxy for the field conditions. This can i.e. be used to study the effects of plant-plant interactions with the benefits of being in a controlled environment. Bench phenotyping solutions may also include transparent containers to investigate root and shoot development and response. Additional environmental sensors to monitor temperature, light, gases and soil moisture content for tight control of drought conditions and drought-response are also available.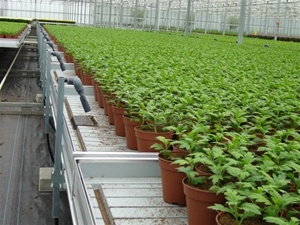 Uniform growing and efficient handling
Growing plants on benches gives the user high uniformity and flexibility in what plants to grow on the system. Besides that the WPS benches systems also boost efficiency of the entire phenotyping process.
Plants can be irrigated using several methods depending on plant requirements:
Full bench ebb/ flood
Overhead irrigation
Precision irrigation per plant
Measuring the population or the individual plant?
Various sensors can be integrated in combination with a benching system. Depending on the phenotyping objectives sensors for imaging an entire bench can be used to measure parameters on population level.
On the other hand if the objective is to grow plants whilst stimulating plant-plant interactions, but use the full potential of individual plant imaging in 3D this can also be achieved by combining the benching systems with a WPS conveyor system.