Automated Growth Chamber
Features:
Controlled environment system.
Allows to study different environmental conditions.
Ideal for experiments on plant growth and development.
Automated storage of trays and/or benches.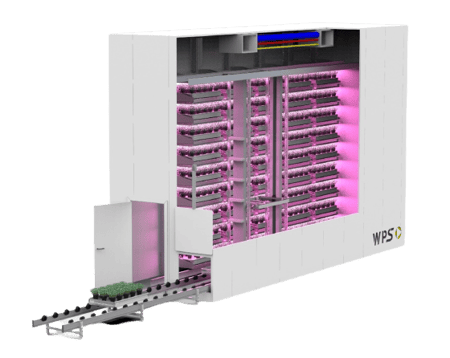 Revolutionize Your Plant Research with Our Automated Growth Chamber
Our Automated Growth Chamber: the perfect solution for scientists and researchers looking to conduct experiments on plant growth and development in a controlled environment. Our Our Automated Growth Chamber provides precise management of lighting, temperature, and humidity levels, allowing for a more accurate study of how plants respond to different environmental conditions.

What's more, you can further improve the functionality of our Automated Growth Chamber by integrating our automation solutions, including the Automated Storage Unit. This additional feature provides a fully automated system, allowing you to focus on your research without worrying about the maintenance of the environment.

At our company, we understand the importance of precision and reliability in scientific research. That's why our Automated Growth Chamber is engineered with the highest quality materials and designed to deliver consistent results every time. Our system is easy to use and comes with comprehensive support from our team of experts.